The Flimsy Copy (2021)
Installation, The Long Gallery, Rockingham Castle
A love letter to the spectres of women past, present and future
Installation, textiles, objects, drawing and audio by Sarah Gillett
Sarah Gillett's The flimsy copy started in the family archives of Rockingham Castle, with the artist's interest in the lives of its female occupants throughout history. Over a year in the making, her resulting body of work uses physical and digital spaces to dig into the resonances left by these women on literature, spiritualism and gardening and reminds us of the importance of what we leave behind.

The flimsy copy manifests as an installation of drawing, objects and sound in The Long Gallery at Rockingham Castle. A floating figure wears a dress based on a 19th century pattern, as may have been worn by Lavinia Watson, lady of the house and a close confidante of Charles Dickens in the 1840s. Elsewhere in The Long Gallery a cabinet displays correspondence between Lavinia and Charles, a remnant of an extraordinary friendship which inspired Bleak House.

Sarah's fabric design is made up of tiny scenes from her Minecraft world, Many hands make lightwork; look closely and you will see a pixelated version of the meteorite stone circle that exists in this room as a large drawing, hung nearby on the right hand wall.

The spectral occupant of this dress can be explored online in Not only; but also, an artwork that takes us inside the dress and body of a woman lying in the gardens of Rockingham Castle at night. In place of organs are objects of desire owned by Sarah. We hear fragments of a seance. Outside we can see a ghost of the Minecraft world but cannot access this other time and place directly.

In The Long Gallery Sarah's objects of desire appear as 3D printed figures under glass domes and in boxes. Spirit trumpets point upwards to capture a whispering soundtrack that drifts in and out of the space. We hear fragments of letters and seance transcripts from Florence Culme-Seymour's archives. Against increasing tensions in 1930s Europe, Florence writes frequently to her son about her daily life, the changing of the seasons in the garden and her worries. Through the seance transcripts, her longing to connect to her late husband through a medium unearths both poignant and surreal visitations, growing into epic supernatural narratives that last over 10 years.
The flimsy copy appears in the exhibition The Howse Shal be Preserved, Rockingham Castle. Commissioned by Fermynwoods Contemporary Art, 2020-2021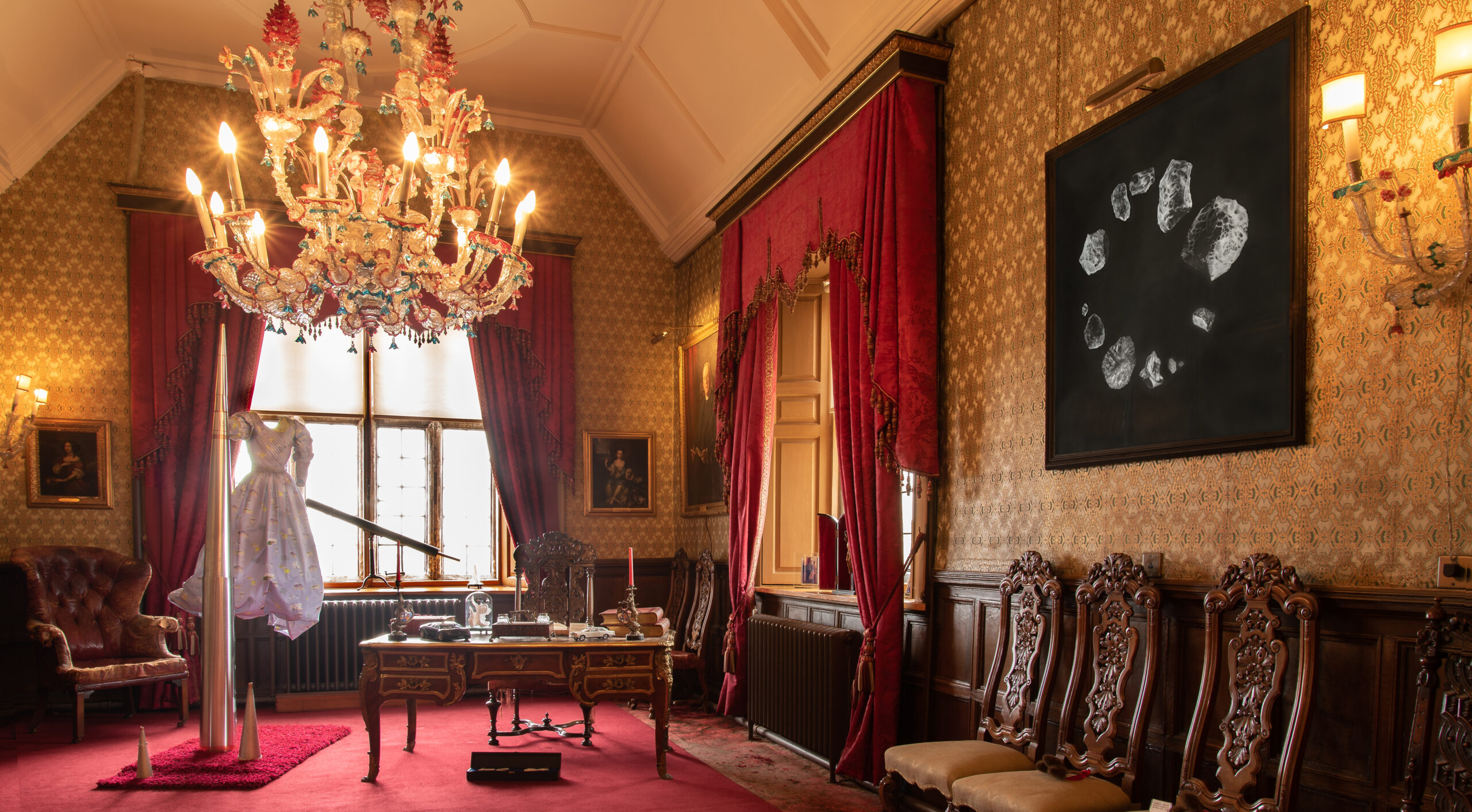 The Flimsy Copy associated works
Fantastical Minecraft night time experience inspired by the lives, loves and fates of Rockingham Castle's female inhabitants throughout history.
Read more »
Inspired by the lives of women at Rockingham Castle and their resonance in history, literature and spirituality, this web-based artwork takes the form of a sleeping ghostly female figure and explores an interior world where memory, dreams and shadows reign.
Read more »
Rewrite of Clara H. Scott's 1895 hymn, Open my eyes, that I may see , a favourite opening anthem for seances at Rockingham Castle in the 1930s. My version emphasises the house as a haunted body.
Read more »
I think you might like...
There was something wrong with the sea. The waves were oily and green and forest-filled, like the kelp had been ripped from its leathery footholds by a far away storm and carried here by the currents. A thick tangle of tentacles and skeins spread across the water holding bulging sacs that popped open as they reached the surface and spewed hundreds of bugs onto the undulating skin.
Read more »
The old fart in Room 17 is becoming a problem. He does it even when his wife's on the terrace, sweating, counting her rosaries. Clack-clack. Hail Mary, full of grace, the Lord is with thee. Ah, Mamma, what would you say if you could see me now? Four stringy children and a fat pig of a husband who belches triumphantly after every meal and snores all night. Clack-clack-clack.
Read more »
Strawberries are the taste of summer. Bite into one and it's a nostalgic pleasure trip. The lazy slog and echo of a village cricket match. The twang of rain and tennis racket. The arrowhead dart of swallows quick and fluttering as a power surge, scattering across the screen as missing pixels.
Read more »